Star Wars Knights of the Old Republic Black Series réplique sabre laser Force FX Elite Darth Revan
Précommande - Star Wars laser saber
Dans la tradition Star Wars, le passage de Sith à Jedi de Darth Revan est représenté par la couleur de son sabre laser. En tant que Seigneur Sith, Revan brandissait un sabre laser rouge, mais une fois devenu Chevalier Jedi c'est d'un sabre laser violet qu'il se sert.

Avec une combinaison de LED de technologie avancée et d'effets sonores inspirés du jeu vidéo, le sabre laser Force FX Elite est l'un des sabres laser les plus réalistes produits jusqu'ici.

Les détails de la poignée en métal véritable sont inspirés du sabre laser emblématique de Darth Revan dans le jeu vidéo Star Wars: Knights of the Old Republic. On appuie sur les boutons de la poignée pour activer les différents effets sonores de sabre, déviant des tirs, traversant un mur et un effet de lame passant du violet au rouge.

On peut exposer fièrement ce sabre laser, avec ou sans les lames amovibles, en le plaçant sur le support inclus, puis montrer le cristal Kyber amovible inclus.

Nécessite 3 piles 1,5V AA LR6 (non fournies).
Star Wars Knights of the Old Republic Black Series réplique sabre laser Force FX Elite Darth Revan
IMPORTANT: Veuillez prendre connaissance des renseignements indiqués ci-dessous

Disponibilité estimée fin MAI 2021
Disponibilité : PRÉCOMMANDE/RÉAPPROVISIONNEMENT. Attention cet article n'est pas en stock. Vérifiez la date indiquée au-dessus.
249.00€ TTC
Gagnez 24 points fidélité en ajoutant ce produit à votre commande. Soit une réduction de 3.60€ sur votre prochaine commande.
État du produit : Neuf

Fabricant : Hasbro
Précommande la date est donnée à titre indicatif et elle peut etre modifiée à tout moment selon les informations de nos fournisseurs, les retards sont fréquents. Suukoo-toys n'est pas responsable des éventuels retards. Les articles en stock direct sont expédiés sous 48H, et de 2 à 7 jours ouvrés pour les articles en stock fournisseur. En savoir+. Besoin d'un renseignement? Contactez-nous par mail. (7/7jours).
Frais de port offert Mondial Relay!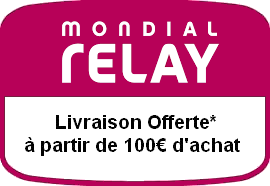 Votre avis est important !
Chaque évaluation et commentaire aide les autres acheteurs à commander en ligne en toute connaissance de cause.SuuKoo-Toys vous remercie de prendre une minute pour évaluer votre achat chez nous! Votre avis est publié de manière anonyme et votre adresse e-mail n'est bien sûr pas communiquée sur le profil d'évaluation de la boutique (voir article en bas de page). N'hésitez pas à partager votre expérience sur les réseaux sociaux.