The Twilight Zone réplique Talky Tina poupée sonore 1/1 Talky Tina 53 cm
Poupée, La Quatrième Dimension
Réplique à l´échelle 1/1 avec vêtements tissu, taille env. 53 cm en emballage boîte-fenêtre.

Talky Tina prononce les phrases suivantes:

My name is Talky Tina and I love you very much.
My name is Talky Tina and I don't think I like you.
My name is Talky Tina and I think I could even hate you.
My name is Talky Tina and I'm beginning to hate you.
I could hurt you.
My name is Talky Tina and I don't forgive you.
I told you you'd be sorry.
You'll die.
I can stand it if you can.
My name is Talky Tina and I'm going to kill you.
My name is Talky Tina and you better be nice to me.
The Twilight Zone réplique Talky Tina poupée sonore 1/1 Talky Tina 53 cm
IMPORTANT: Veuillez prendre connaissance des renseignements indiqués ci-dessous

Sur commande - Expédié sous 2-7 jours ouvrés
En stock : 3
Disponibilité : EN STOCK
239.00€ TTC
Gagnez 23 points fidélité en ajoutant ce produit à votre commande. Soit une réduction de 3.45€ sur votre prochaine commande.
Précommande la date est donnée à titre indicatif et elle peut etre modifiée à tout moment selon les informations de nos fournisseurs, les retards sont fréquents. Suukoo-toys n'est pas responsable des éventuels retards. Les articles en stock direct sont expédiés sous 48H, et de 2 à 7 jours ouvrés pour les articles en stock fournisseur. En savoir+. Besoin d'un renseignement? Contactez-nous par mail. (7/7jours).
Frais de port offert Mondial Relay!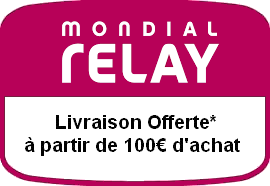 Votre avis est important !
Chaque évaluation et commentaire aide les autres acheteurs à commander en ligne en toute connaissance de cause.SuuKoo-Toys vous remercie de prendre une minute pour évaluer votre achat chez nous! Votre avis est publié de manière anonyme et votre adresse e-mail n'est bien sûr pas communiquée sur le profil d'évaluation de la boutique (voir article en bas de page). N'hésitez pas à partager votre expérience sur les réseaux sociaux.