World of Warcraft Statue Lothar 28cm - Gentle Giant
De Universal Pictures, Legendary Pictures et du réalisateur Duncan Jones (Lune, code source) vient Warcraft, une aventure épique de conflit mondial basé sur le phénomène mondial de Blizzard Entertainment.
Le royaume paisible d'Azeroth est au bord de la guerre alors que sa civilisation humaine fait face à une redoutable race d'envahisseurs: des guerriers orques fuyant leur maison mourante pour en coloniser une autre. Alors qu'un portail s'ouvre pour relier les deux mondes, une armée est confrontée à la destruction et l'autre à l'extinction. Des côtés opposés, deux héros sont engagés sur une trajectoire de collision qui décidera du sort de leur famille, de leur peuple et de leur maison. Ainsi commence une saga spectaculaire de pouvoir et de sacrifice dans laquelle la guerre a de nombreux visages et tout le monde se bat pour quelque chose.
De Gentle Giant LTD / 3D Systems vient un héros forgé dans le feu de la guerre, animé par l'amour du roi et du pays, LOTHAR! Cette incroyable statue a été créée à l'aide de fichiers numériques fournis par Legendary Pictures. Cette superbe statue fidèle à l'écran a été reproduite dans les moindres détails et sera moulée à la main, peinte à la main et inclura une taille d'édition numérotée à la main.
World of Warcraft Statue Lothar 28cm - Gentle Giant
La date de sortie pour un article en Pré-commande est donnée à titre indicatif et elle peut etre modifiée à tout moment selon les informations de nos fournisseurs. Nous ne sommes pas responsable des éventuels retards sur les dates indiquées. Les articles en stock direct sont expédiés sous 24H. En savoir+. Besoin d'un renseignement? contactez-nous par mail.
IMPORTANT : Veuillez prendre connaissance des renseignements indiqués ci-dessous.
Expédié sous 2-7 jours ouvrés
Disponibilité : EN STOCK
369.90€ TTC
Frais de port offert Mondial Relay! en savoir+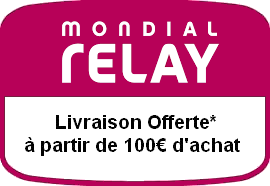 Votre avis est important !
Chaque évaluation et commentaire aide les autres acheteurs à commander en ligne en toute connaissance de cause.SuuKoo-Toys vous remercie de prendre une minute pour évaluer votre achat chez nous! Votre avis est publié de manière anonyme et votre adresse e-mail n'est bien sûr pas communiquée sur le profil d'évaluation de la boutique (voir article en bas de page). N'hésitez pas à partager votre expérience sur les réseaux sociaux.