Master of the Universe mini réplique épée He-Man's Power Sword 20 cm
Réplique épée: taille 20cm - Les Maîtres de l´Univers
Réplique en métal sous licence officielle, dimensions env. 20 cm, en métal léger. Une réplique à l'échelle de haute qualité et sous licence officielle de l'épée de puissance utilisée par He-Man dans Masters Of The Universe. Cette superbe réplique d'hélice à l'échelle robuste de 8 pouces est moulée en métal solide. Chaque réplique à l'échelle est livrée dans un collecteur prêt à afficher un emballage. Factory Entertainment est là pour aider à élargir l'expérience de collecte de la culture pop avec sa ligne de répliques de prop à l'échelle. Toutes les répliques d'accessoires à l'échelle sont disponibles à un prix abordable et d'entrée de gamme, sans lésiner sur les détails fins que les collectionneurs attendent des répliques à grande échelle de Factory Entertainment. Commencez votre collection de répliques d'accessoires à l'échelle dès aujourd'hui!
Master of the Universe mini réplique épée He-Man's Power Sword 20 cm
IMPORTANT: Veuillez prendre connaissance des renseignements indiqués ci-dessous

Sur commande - Veuillez nous contacter pour vérifier la disponibilité de l'article auprès du fournisseur
Disponibilité : PRÉCOMMANDE/RÉAPPROVISIONNEMENT. Attention cet article n'est pas en stock. Vérifiez la date indiquée au-dessus.
45.00€ TTC
Gagnez 4 points fidélité en ajoutant ce produit à votre commande. Soit une réduction de 0.60€ sur votre prochaine commande.
Précommande la date est donnée à titre indicatif et elle peut etre modifiée à tout moment selon les informations de nos fournisseurs, les retards sont fréquents. Suukoo-toys n'est pas responsable des éventuels retards. Les articles en stock direct sont expédiés sous 48H, et de 2 à 7 jours ouvrés pour les articles en stock fournisseur. En savoir+. Besoin d'un renseignement? Contactez-nous par mail. (7/7jours).
Frais de port offert Mondial Relay!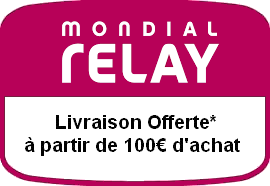 Votre avis est important !
Chaque évaluation et commentaire aide les autres acheteurs à commander en ligne en toute connaissance de cause.SuuKoo-Toys vous remercie de prendre une minute pour évaluer votre achat chez nous! Votre avis est publié de manière anonyme et votre adresse e-mail n'est bien sûr pas communiquée sur le profil d'évaluation de la boutique (voir article en bas de page). N'hésitez pas à partager votre expérience sur les réseaux sociaux.