Master of the Universe mini réplique épée He-Man's Power Sword 20 cm
Réplique épée: taille 20cm - Les Maîtres de l´Univers
Réplique en métal sous licence officielle, dimensions env. 20 cm, en métal léger. Une réplique à l'échelle de haute qualité et sous licence officielle de l'épée de puissance utilisée par He-Man dans Masters Of The Universe. Cette superbe réplique d'hélice à l'échelle robuste de 8 pouces est moulée en métal solide. Chaque réplique à l'échelle est livrée dans un collecteur prêt à afficher un emballage. Factory Entertainment est là pour aider à élargir l'expérience de collecte de la culture pop avec sa ligne de répliques de prop à l'échelle. Toutes les répliques d'accessoires à l'échelle sont disponibles à un prix abordable et d'entrée de gamme, sans lésiner sur les détails fins que les collectionneurs attendent des répliques à grande échelle de Factory Entertainment. Commencez votre collection de répliques d'accessoires à l'échelle dès aujourd'hui!
Master of the Universe mini réplique épée He-Man's Power Sword 20 cm
La date de sortie pour un article en Pré-commande est donnée à titre indicatif et elle peut etre modifiée à tout moment selon les informations de nos fournisseurs. Nous ne sommes pas responsable des éventuels retards sur les dates indiquées. Les articles en stock direct sont expédiés sous 24H. En savoir+. Besoin d'un renseignement? contactez-nous par mail.
IMPORTANT : Veuillez prendre connaissance des renseignements indiqués ci-dessous.
Disponibilité prévue fin 02/2021
Disponibilité : PRÉCOMMANDE/RESERVATION - Attention cet article n'est pas en stock. Vérifiez la date indiquée au-dessus.
45.00€ TTC
Frais de port offert Mondial Relay! en savoir+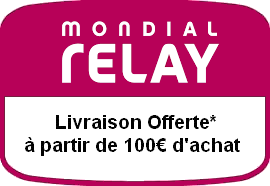 Votre avis est important !
Chaque évaluation et commentaire aide les autres acheteurs à commander en ligne en toute connaissance de cause.SuuKoo-Toys vous remercie de prendre une minute pour évaluer votre achat chez nous! Votre avis est publié de manière anonyme et votre adresse e-mail n'est bien sûr pas communiquée sur le profil d'évaluation de la boutique (voir article en bas de page). N'hésitez pas à partager votre expérience sur les réseaux sociaux.