Saint Seiya Myth Cloth Milo Scorpion Ex Soul Of Gold Figurine 18cm
Suukoo-toys ne peut vous garantir à partir du 04/10/2020, que votre précommande pourra être honorée en raison des quantités très limitées (un remboursement total sera effectué sous 24h si il y a annulation).
Voici enfin le nouveau personnage de la série Soul Of God a sortir en Myth Cloth EX : Scorpion Milo. Il s'agit du 10eme Gold Saints à sortir sur les 12. L'armure montée en totem est de toute beauté avec les pinces majestueuses du scorpion. Le set inclus : 5 visages différents, mains interchangeables,et porte armure.
Saint Seiya Myth Cloth Milo Scorpion Ex Soul Of Gold Figurine 18cm
La date de sortie pour un article en Pré-commande est donnée à titre indicatif et elle peut etre modifiée à tout moment selon les informations de nos fournisseurs. Nous ne sommes pas responsable des éventuels retards sur les dates indiquées. Les articles en stock direct sont expédiés sous 24H. En savoir+. Besoin d'un renseignement? contactez-nous par mail.
IMPORTANT : Veuillez prendre connaissance des renseignements indiqués ci-dessous.
Précommande Date de sortie 11/2020
Disponibilité : PRÉCOMMANDE/RESERVATION - Attention cet article n'est pas en stock. Vérifiez la date indiquée au-dessus.
144.90€ TTC
État du produit : Neuf

Fabricant : BANDAI
Frais de port offert Mondial Relay! en savoir+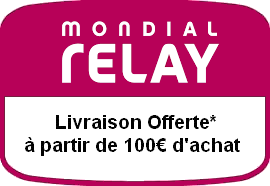 Votre avis est important !
Chaque évaluation et commentaire aide les autres acheteurs à commander en ligne en toute connaissance de cause.SuuKoo-Toys vous remercie de prendre une minute pour évaluer votre achat chez nous! Votre avis est publié de manière anonyme et votre adresse e-mail n'est bien sûr pas communiquée sur le profil d'évaluation de la boutique (voir article en bas de page). N'hésitez pas à partager votre expérience sur les réseaux sociaux.