The crow statue Eric Draven movie gallery Diamond select
Une sortie remarquable de Diamond Select Toys!
Eric Draven

accroupi sur un toit en train de

traquer sa proie dans ce tout nouveau Diorama Gallery
basé sur le film culte The Crow! Avec le corbeau
sur son épaule et de la vapeur encerclant ses pieds, cette
sculpture d'environ 25cm est en PVC de haute qualité ! On retrouve parfaitement les traits du visage d'Éric Draven (Brandon Lee). La statuette
comporte des applications détaillées de sculpture et de finition de peinture. Cet article
est emballé dans une boîte-fenêtre de couleur. Conçu par
César, sculpté par Rocco Tartamella.
The crow statue Eric Draven movie gallery Diamond select
IMPORTANT: Veuillez prendre connaissance des renseignements indiqués ci-dessous

Disponibilité estimée mi OCTOBRE 2021
Disponibilité : PRÉCOMMANDE/RÉAPPROVISIONNEMENT. Attention cet article n'est pas en stock. Vérifiez la date indiquée au-dessus.
49.00€ TTC
Précommande la date est donnée à titre indicatif et elle peut etre modifiée à tout moment selon les informations de nos fournisseurs, les retards sont fréquents. Suukoo-toys n'est pas responsable des éventuels retards. Les articles en stock direct sont expédiés sous 48H, et de 2 à 7 jours ouvrés pour les articles en stock fournisseur. En savoir+. Besoin d'un renseignement? Contactez-nous par mail. (7/7jours).
Frais de port offert Mondial Relay!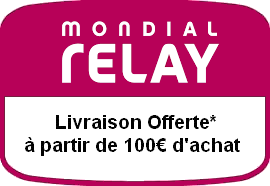 Votre avis est important !
Chaque évaluation et commentaire aide les autres acheteurs à commander en ligne en toute connaissance de cause.SuuKoo-Toys vous remercie de prendre une minute pour évaluer votre achat chez nous! Votre avis est publié de manière anonyme et votre adresse e-mail n'est bien sûr pas communiquée sur le profil d'évaluation de la boutique (voir article en bas de page). N'hésitez pas à partager votre expérience sur les réseaux sociaux.